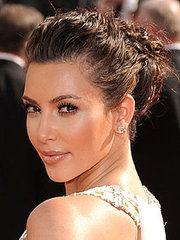 Face Shapes and Hairstyles at the Emmy Awards– Here's what worked and what didn't!
Whose face shapes most resemble yours?
One thing I've learned in the process of doing thousands of makeovers is that it is extremely hard to be objective about ourselves, especially when it comes to diagnosing our own face shape.
The majority of women who I've worked with don't know what shape their face is, or they believe their face shape is different than what it actually is. And more often than not, self-criticism is the culprit and something we all do, for instance; "I'm fat;" "My face is too round," "My face is too long.". . . you know what I mean.
We all seem to have a better eye for judging what hairstyles work, (or don't work) on anyone other than ourselves. Here are some celebrities we saw at the Emmy Awards this year. Of course, the gowns influence the choice of hairstyles worn in some instances, but face shapes play a very important role in the final hairdos that are chosen for such a big event.
Hairstyles for Heart Face Shapes
As you can see from the photo at the top of this article Kim Kardashian – has a heart shaped face, wider cheekbones and a narrowing chin line. We rarely see her with her hair up, but this twisted updo created one sweet look on her!
Why it works – — Kim's updo was kept narrow at the temples with just a bit of height on top. If this do had been styled to be too full and wide or too big on top, it would have accentuated her narrow chin-line and made her look too top-heavy.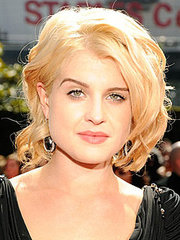 Hairstyles for Round Face Shapes
Kelly Osbourne – has a round face shape, it is pretty much as wide as it is tall with roundness in the cheeks and the chin-line.
Why it doesn't work – women with round faces should always steer clear from big, rounded, poufy hair styles. The top of this hairstyle is rounded and full, which appears top-heavy and adds fullness to her face. Kelly is adventurous in changing up her hairstyle and recently her choices have gotten better reviews. The  asymmetrical hairstyle she's been seen wearing lately is much more flattering on round faces. For more hairstyles that are complimentary and thinning on round face shapes, check out our Pinterest Hairstyles for Round Face Board.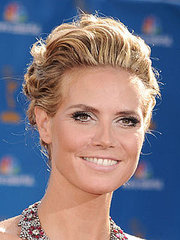 Hairstyles for Square Face Shapes
Heidi Klum – has a square face shape with her jaw bones and hairline more prominently square. (Most people don't have a perfectly square, round, heart or triangle shaped faces, but will fall closer to one shape than another, and Heidi leans more toward a square face shape.
Why it doesn't work – Heidi's updo looks severe. A few wisps of hair left out to frame her face, would soften the straighter lines of her face. An off-center part would break up the symmetrical lines of her face, and height at the crown, rather than in front, would be a good place to add length to her face. It's good to bring height to the top, to elongate a square face shape, but the overall shape of this updo is too squared.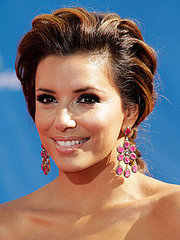 Hairstyles for Oval Face Shapes
Eva Longoria Parker – has an oval face shape which balances well with bangs or no bangs, short or long hair, bobbed hairstyles, or layered haircuts. Just about any hairstyle works with oval faces.
Why it works – Eva's updo is edgy and elegant, and because it shows off her beautiful face shape, it was a perfect do' for the Emmy's. This type of updo, all off the face with a textured look, was like the one we saw on Heidi Klum, but wouldn't you agree . . . it looks much softer and well designed on Eva?
To stay current with what is happening with celebrity hairstyles, follow our Pinterest Celebrities Board.