Homecoming Hairstyles You Need Try
Planning out your look for homecoming can be super stressful. One of the most difficult things about preparing for the big day is sorting through tons of stylish homecoming hairstyles. You need to consider several different things when making your choice. Your dress along with the venue should definitely be taken into account since they can make or break your look.
Will you be wearing a strapless dress? Is the event outdoors? These things can affect how your hair looks and whether or not your hairstyle will last through the night. Here are some of our favorite looks we think make the list as some of the best homecoming hairstyles for the year.
A half-updo is a great option for homecoming, beautiful but not overdone. It keeps the front pieces of hair out of your face, but still leaves a tremendous amount of length. This is a great hairstyle for a strapless dress because it won't distract from the neckline of your gown. You can also wear the style straight or curly and use accessories like ribbons, barrettes or glittery pins, which makes it extremely versatile.
Sleek top knot buns will be a top pick for homecoming hairstyles. If you are wearing a gown with an intricate top it will keep the hair up off your neck and really let your dress shine. A top knot bun will also keep your hair securely up and out of your face so you won't need to worry about it coming undone during the night. The best part? Top knots can easily be accessorized to complete your look.
Sleek, straight hairstyles with straps of bright colors will create a simple but chic look for homecoming. You can easily straighten your hair at home and add color with a temporary dye, color chalk, or extensions. Extensions are definitely the best way to go for this look as the others could accidentally come off on your gown. Pick out colors that go with your dress or makeup for a more pulled together look.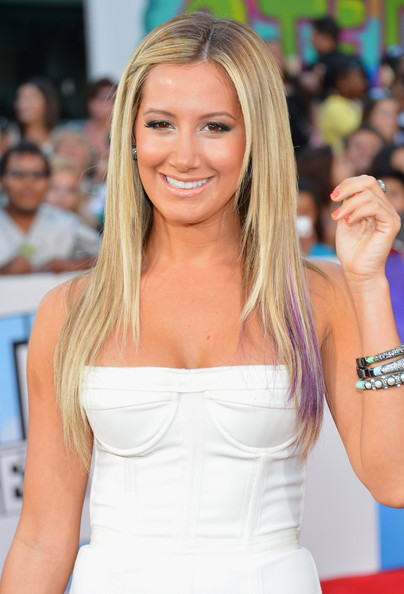 A messy fishtail braid creates the perfect contrast against an elegant homecoming dress. The best thing about this hairstyle is that it is so easy that you can do it at home. All you have to do is let your hair air dry with a texturizing product and then braid it into a fishtail braid on the side. Simply pull small pieces out and secure the end in place with a fancy accessory. Fishtail braids will certainly be one of the go-to homecoming hairstyles this year.
Braided headbands are super hot this year and they will work great with practically any gown. If you have short hair and it's not long enough to braid across the front, you can purchase a braided hairband accessory in the color of your hair and simply slide it into place. You can style your hair to the side or to the back or you can just wear it down. This is an awesome look for those of you who have short hair and want to change it up a bit for a special event like homecoming! For more great looks check out our Pinterest Wedding Hairstyles, Prom Hairstyles and Braid Boards.
[raw]
Barb Quinn on Google+  


[/raw]